Large File Transfer, Free!
FilePost provides you web-based file transfer/send service for free. You can send large files that cannot be sent by e-mail.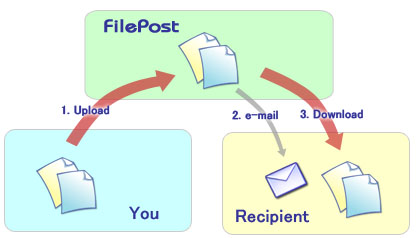 Key Feature
You can send 15 files, total

3GB

.
Free. No registration required.
Files you send are kept in 5 days max. Total of download file size is up to 6GB.
FilePost has a file adding function. You can add files at download page (you can transfer more than 10 files). It enables you to use our site as a cloud computing system or online storage.
Progress bar is appeared when files are uploading.
Smart phone (Android, iPhone, iPad) is supported.
You can send mails to up to 3 recipients. (Sample of e-mail)
Web Folder Service
You can share files with your friends or bisiness pertner.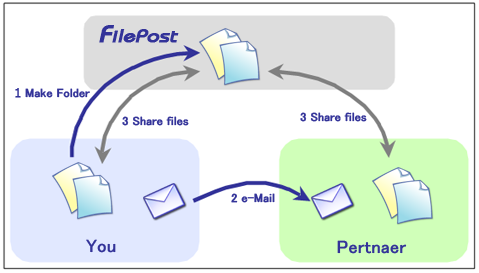 File Size
100MB
File Num.
No limit
Duration
7 days
Free
No Regist.
Feature
50 files max. for first upload, but no file number limitation for additional file upload. Maximum folder size is up to 100mB.
Web folder is avairable in 7 days. Total download size is up to 450mB.
You can select multiple files when you upload files.